Female Quick Disconnect - 1/2" Barb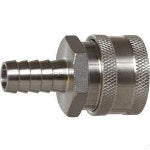 Made from 304 stainless steel. These quick disconnects seal extremely well and make moving hoses around a breeze.
1/2" Barb designed to easily attach to 1/2" ID hose. These quick disconnects are designed to hold pressure for typical brewing applications.
Gasket temperature range is -40° to 250° F
Praise from our customers
It shipped the same day I ordered it and was at my door 3 days later. The parts went together like a dream. Everything fit exactly as it was supposed to. The video instructions made this build very easy.
Jimmy F.
Lakeland, Florida