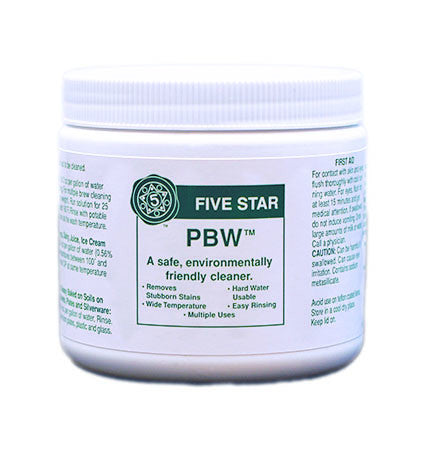 PBW - Powdered Brewery Wash
This is a non-caustic cleaner that can be used to clean stainless steel, copper, glass, rubber gaskets, tubing, plastic, and is safe on your skin. PBW is environmentally friendly, biodegradable and is safe for use on septic systems. 
Multipurpose cleaner used to clean even the most stubborn equipment.
Great for cleaning copper and stainless steel stills as well as all brewing equipment.
Will not damage rubber gaskets, plastic, or even soft metal.
Use 1 to 2 ounces per gallon of water for cleaning stainless steel stills and stainless brew kettles
Use 1/2 to 3/4 ounce per gallon of water for copper stills
Use 3/4 ounce per gallon of water for fermenters, kegs, bucks, and other mashing equipment
Soak equipment for 20-30 minutes and then rinse well with warm water.
For stubborn equipment soak the equipment overnight- then scrub and rinse with clean water the following day.
Praise from our customers
It shipped the same day I ordered it and was at my door 3 days later. The parts went together like a dream. Everything fit exactly as it was supposed to. The video instructions made this build very easy.
Jimmy F.
Lakeland, Florida