How to Brew Like a Champion - Online Course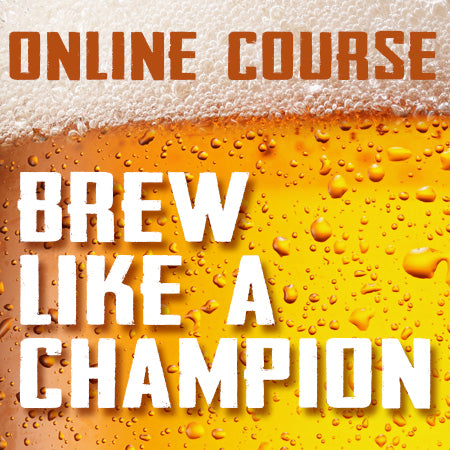 Don't just brew, brew like a boss. And don't be just any ol' boss, be the CEO of brewing. You know what, why stop there? Elect yourself brew president. And then use that power to appoint yourself the emperor of brewing. Because these are the necessary steps to transcend to a brew god - which is what you'll do with this online video-based course on all grain, single kettle (BIAB) brewing.
But why? Why would you want to brew the best damn beer you've ever tasted in your entire life? Sorry, we should have mentioned, there is only one dumb question and that is it. Don't ask that question again.
This course will cover the basics of all grain brewing using a brew in a bag system and will contain a range of information that will be just as useful to beginners who have never before brewed their own beer as it will experts who have been brewing for years.
We'll be using our Clawhammer 10.5 Gallon BIAB system, but any BIAB system will do. We'll also show and describe all of the auxiliary equipment we use (such as gravity meters, pH meters, and so on) as well.
In fact, here's a complete rundown of what we'll cover:
Cleaning and sanitation
Basic recipe creation
Brewing and auxiliary equipment
Mash basics
Mash pH
Mash efficiency
Boil and hop additions
Hop bitterness vs hop aroma
Yeast
Aeration
Fermentation
Tips and Tricks
Packaging
Carbonation
Once you're done with this course you will either know how to brew beer or you'll be well on your way to be a master of the brewing universe.
COMING SOON!
Click green "email me when available" tab on left of screen and enter your email to be notified when the course is live as well as to lock in the introductory price. Once the course is live we will use your email to verify that you locked in the introductory rate.
Praise from our customers
It shipped the same day I ordered it and was at my door 3 days later. The parts went together like a dream. Everything fit exactly as it was supposed to. The video instructions made this build very easy.
Jimmy F.
Lakeland, Florida