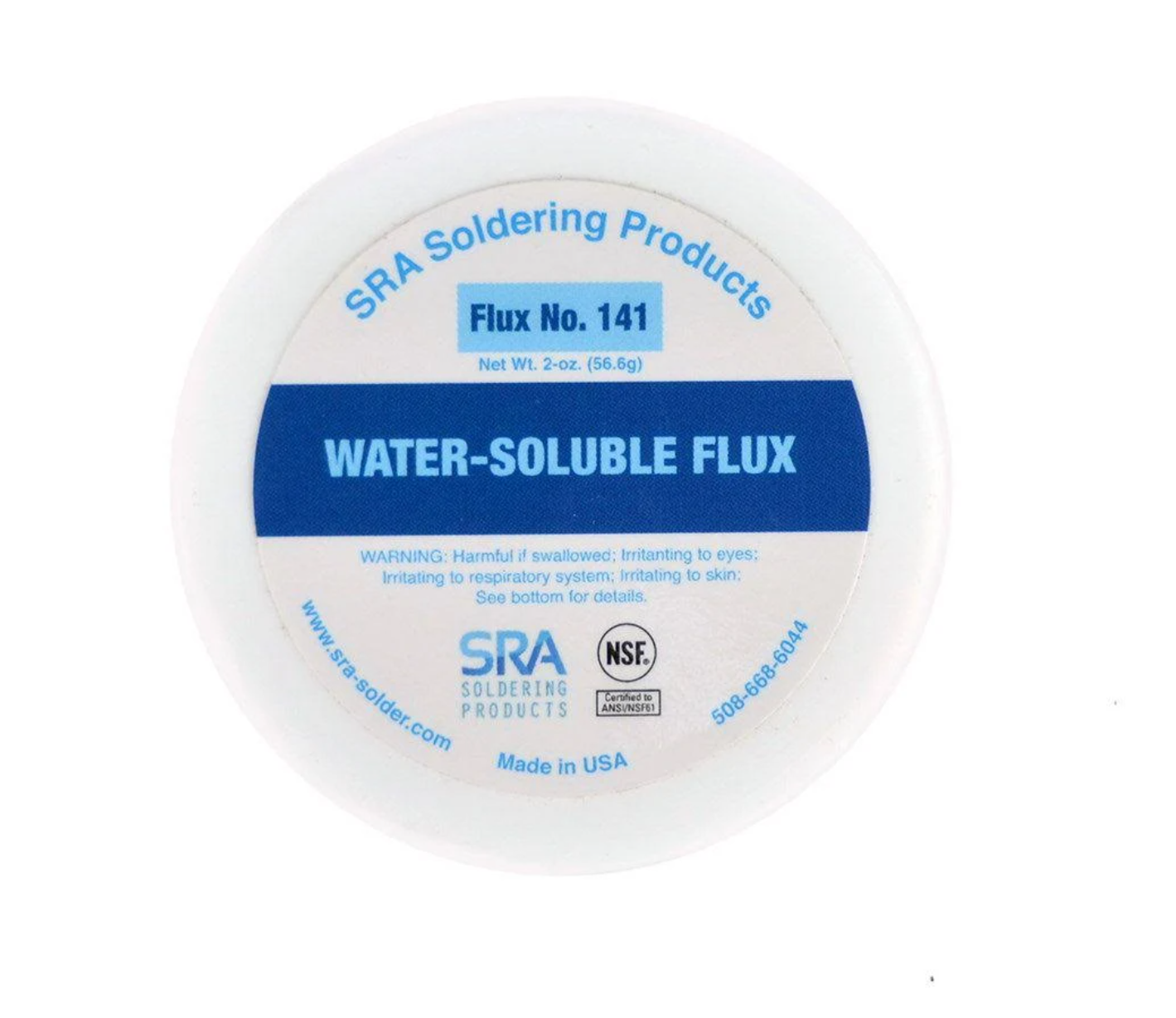 SUPERIOR NO. 141 Lead Free Water Soluble Flux 
2 ounce container.

Non-Hazardous, water-based flux.

Complies with ASTM and CDA specifications.

Formulated for lead-free alloys.
DESCRIPTION
Superior No. 141 plumbing flux is a creamy, white, water flushable paste that holds its shape and will not slump until being heated above 50°C/122°F. This product was developed as a water-flushable alternative to petroleum-based plumbing fluxes, the current standard. Superior No. 141 meets ASTM Specification B-813 and complies with Copper Development Association (CDA) requirements. It is a water-based flux that promotes excellent solderability and post-solder removal with lead-free solders.
APPLICATIONS
Superior No. 141 is formulated specifically for use in plumbing applications where Copper and Copper-alloy tubes are being soldered.
DIRECTIONS
Superior No. 141 should be applied with a brush or a swab. The flux exhibits the best activity between 93-315°C/200-600°F. Post-solder residues are water-flushable. The following steps are recommended for optimum soldering results:
Remove any oil, grease, or other contaminants from the surface to be soldered.

Apply flux to joint by swabbing or brushing to area being soldered.

Preheat or air-dry area to be soldered after flux has been applied to activate the flux and yield optimum soldering characteristics and reduce or eliminate spattering.

Apply or feed solder wire to area being soldered.

Clean flux residues from soldered area using a water rinse or by wiping off with a wet cloth.
Praise from our customers
It shipped the same day I ordered it and was at my door 3 days later. The parts went together like a dream. Everything fit exactly as it was supposed to. The video instructions made this build very easy.
Jimmy F.
Lakeland, Florida